All prices shown are ex-GST
PRODUCTION/CONSULTING - $75/hr
analysing requirements and offering solutions
contract work - creating new material or updating/modifying existing material e.g. documents, spreadsheets, presentations, designs, images, video, photography
TRAINING - at MY premises - $75/hr (bus.hours only)
Hours charged = You determine session length (min. 2-hrs)
and you bring your own laptop hardware/software
TRAINING - at YOUR premises - $75/hr
Evenings/Weekends may be available by negotation, but will attract a 30% surcharge
Hours charged = time onsite + travel time (by prior negotiation and written agreement).
- You determine session length (min. 2-hrs), no. of people, no. of sessions.
- You provide the training environment incl. hardware/software for your staff.
- I bring my own laptop hardware/software
Additional OPTIONS I offer for YOUR premises:
HD ultra bright Projector available for on-site training
Regional, rural and interstate travel by negotiation and written agreement
How you can reduce training costs per person by
providing your own computers in your own meeting rooms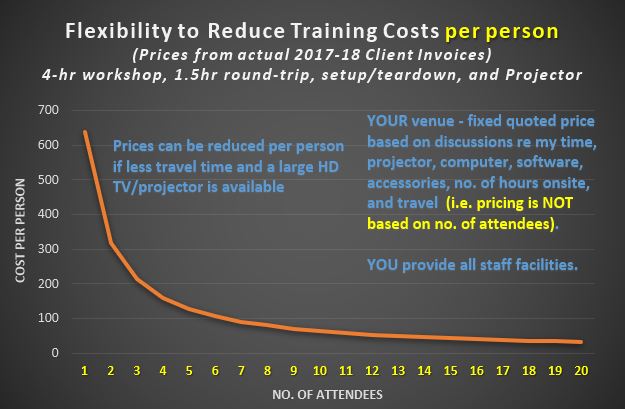 PLEASE NOTE:
- prices shown in the graph are ex-GST.
- use the prices above as a general guide only (they may likely be less!).
- your own quote will be determined after discussing specific requirements, travel, time on site, etc..